Kurt Brouwer November 10th, 2009
The fact that state tax revenues are falling should not be a surprise given that we have been in a recession.  Nor, should it be surprising that income taxes have fallen far more than sales taxes or property taxes.  Historically, the bulk of income tax revenues come from higher income folks whose income is far more volatile.  This is all predictable, but I imagine this predictable outcome is still quite a shock to the powers that be in our state capitols: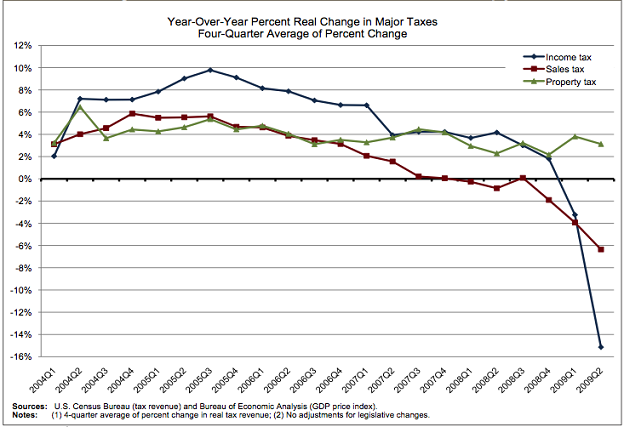 Source: Nelson A. Rockefeller Institute
My prediction?  We will see a lot of interest on the part of politicians for additional sales taxes such as the value-added tax (VAT) as used in Europe.  This would not be so bad if it replaced an existing tax, but that will almost certainly not be the case.  The VAT will be increasingly touted as a way to 'solve' the state funding or Federal funding shortfall.
Hat tip: Barry Ritholtz