Kurt Brouwer November 9th, 2009
If you are a U.S. investor, the S&P 500 is up over 20% this year.  Not bad all things considered.  However, investors in other countries have often not fared as well because the gain from U.S. stocks was offset by the decline in the dollar.  This table gives a sense of how that has worked out: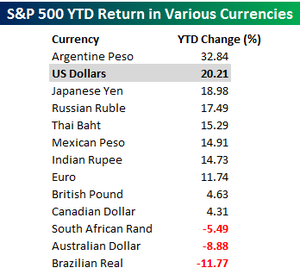 Source: Bespoke
All in all, U.S. stocks have still been good for foreign investors this year, with the exception of a few very strong currencies.  On the other hand, those who have most of their wealth in those strong currencies are probably looking at our stocks, real estate and other assets as bargains.
What's next for the dollar?
The big difficulty we face now is that the economy is weak and the Fed likes to have low interest rates to help the economy begin to grow again.  Low interest rates are helpful to overall economic activity, but lower rates generally hurt the dollar.  If we wanted to help out the weak dollar, the response would ideally be to raise interest rates.  However, due to serious weakness in the economy, the Fed is hampered in its ability to respond to this situation and I believe it will opt to keep interest rates low for a year or so in order to promote economic growth.
You may hear various members of the Federal Reserve or politicians or pundits decrying the weak dollar.  However, for decades, our government's philosophy during recessions has been to publicly espouse a strong dollar while, at the same time, cutting interest rates to strengthen the economy and give unemployment a boost.  This has traditionally been done despite the fact that lower interest rates generally lead to a weaker dollar.  I don't see anything in the cards that appears to have changed that policy.   Therefore, I expect continued pressure on the dollar as the Fed seeks to get economic activity going again.